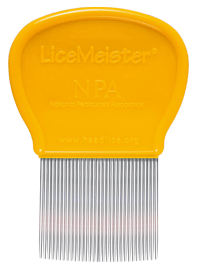 Thanks to the LiceMeister® comb (you can order one here), parents can screen their children regularly at home!
Welcome to HeadLice.Org!
Head lice resources and information for parents, health care professionals, and organizations brought to you by the National Pediculosis Association,® Inc. Learn to screen, detect and remove head lice and nits safely and effectively.
Why Comb? Buy LiceMeister® Comb
What To Do About Head Lice
Parents naturally put their children first, constantly seeking information to keep their families nurtured and safe. But when it comes to head lice, they're often confronted with conflicting guidance and misinformation—leading them to make potentially risky and ineffective treatment decisions. Among the hazards are serious health effects from repeated exposure to various pesticide remedies, treatment failures, lice resistance, and chronic infestations that make parents and children feel desperate and overwhelmed. The NPA advises parents to comb first, to discontinue the use of any treatment at the earliest sign of failure, and to avoid using other chemicals. Manual removal of head lice with a comb is the best option whenever possible.
---
NPA's petition urges the FDA to acknowledge benefits of safe, manual, non-chem approaches with LiceMeister® comb for kids with head lice. FDA has reopened comment section.
Please post comments & give kids a voice!
Parents and Health Professionals
Peruse our downloadable resources, our how-to steps for head lice removal, our news and research section, our frequently asked questions, and learn about best practices related to the rapid removal and ongoing prevention of head lice outbreaks.
Just For Kids
In our "Just For Kids" section of HeadLice.Org you will find information and activities designed BY kids FOR kids, a child-friendly place for them to learn more about head lice and have fun too!
No Nit Policy
Learn about NPA's No-Nit Policy and how similar policies can prevent head lice outbreaks in schools and communities.
Focus on Safety
Learn about the Deceptive Dozen and why combing with an effective head lice comb, rather than turning to pesticides, is the preferred and most effective solution for head lice removal.
The LiceMeister® comb was featured as a lindane alternative at a global meeting of the Stockholm Convention!