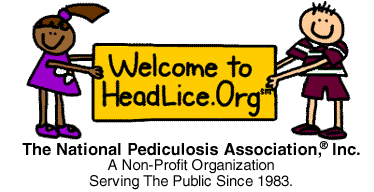 Disclaimer
The National Pediculosis Association, Inc. is a non profit, 501(c)(3) health and education agency. We serve as a resource center and information clearing house on issues related to human infestations of lice and scabies; encouraging standardized control protocols and safer treatment choices. The NPA strives to provide the most current and accurate information in order for parents and health care professionals to make informed decisions in these matters. Individuals in need of medical assistance should consult their pharmacist, physician, or health care provider. The NPA does not endorse any particular lice or scabies chemical treatment product.
The NPA is a non-profit organization and its' name is a registered trademark and should not be used to imply an NPA endorsement. It is unlawful to use the NPA's name or trademarks in this fashion.
The NPA is not responsible for content appearing on linked-sites nor for content appearing on HeadLice.Org originally published by third parties.