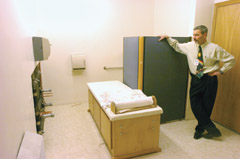 Mark Ylen/Democrat-Herald Principal Pat
Weidmann shows the restroom that is
being converted to a hygiene room at
Calapooia Middle School.


Calapooia creates 'hygiene' room



By Jennifer Moody
Albany Democrat-Herald

Calapooia Middle School has begun construction on a "hygiene" room, the first of its kind in the Albany school district, to help the school better deal with lice and other health issues.

"Plumbing's roughed in," Principal Pat Weidmann said. "Ready for electrical."

When finished, the room will have a shower, washing machine and dryer, and a beautician's sink. Its purpose is to offer students a private place to shower and put on clean clothes prior to class, as well as acting as a classroom to educate students and parents in proper health and hygiene procedures.

Construction is expected to cost about $8,000 and is being funded entirely through donations. Soap, towels and other supplies also have been donated.

The idea came from a Calapooia teacher more than a year ago, Weidmann said. He credited Assistant Principal Leo Huot and basic skills teacher Cindy Miller with obtaining several grants to get the room under way.

The grants include $3,200 from the Meyer Memorial Trust, $1,000 from the FACT program, $538 from the Albany Public Schools Foundation and $500 from the Oregon Education Association's grant program.

The rest came from private donations and numerous Albany service organizations.

Although the room is not strictly for head lice, the insects are an annual problem in all school districts. Cases in Albany actually seem to be down somewhat, however, said Jeannie Watts, district nurse.

"For the most part, it's not as bad as it has been in other years. I think it's a little bit better," she said.

Some schools have habitual cases, she said, mostly because it takes a great deal of effort and time to get rid of lice.

"You have to pick every one out," she said.

Lice are wingless parasites that live on human blood. Lice eggs, or nits, are found attached to hair shafts. They usually are located behind the ears and at the base of the neck at the hairline. They are black, white or gray specks about the size of a sesame seed.

Health officials and the National Pediculosis Association stress lice are not caused by dirty homes or by not shampooing, and can affect people of all ages, incomes and backgrounds.

Lice are transferred from host to host by sharing hats, coats, towels, helmets, bedding, pillows, brushes, barrettes, headphones, car seats, stuffed toys and other personal items.

Children are the most common carriers of lice because they often spend the night at each other's homes or otherwise share closer physical contact.

Health officials say vinegar, kerosene and products meant to treat pets should not be used on lice. Commercial products are not 100 percent effective and must be combined with picking or combing out lice and nits by hand.

Reinfestation can occur if lice removal directions are not followed properly or if the original source of infestation, such as a friend or family member or a personal item, has not been deloused.

Watts said she is available if people have questions or need help combating head lice. She can be reached at 967-4624 or through Samaritan Albany General Hospital, 812-4662.
---
Copyright © 2004 • Lee Enterprises