National Pediculosis Association Marks 25 Years of Advocating Important Message: 'It's Not About Lice, It's About Kids'
This September, the All Out Comb Out has special significance. That's because the National Pediculosis Association is celebrating its silver anniversary. For the past 25 years, the association has kept kids happy and lice free through basic measures of routine screening, early detection and thorough removal of all the lice and nits.
(PRWEB) September 2, 2008 -- A lot can change in 25 years, but the National Pediculosis Association's commitment to protecting children from the misuse and abuse of pesticides has never wavered. Each year NPA's signature outreach, the All Out Comb Out, coincides with its sponsorship of National Head Lice Prevention Month and the back to school season. The National Pediculosis Association's message is timeless, as relevant now as it was 25 years ago.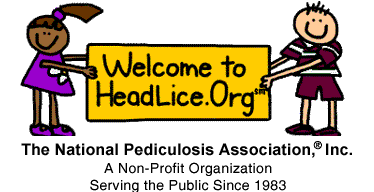 "Our silver anniversary is a great time to look back and celebrate what we've achieved," said Deborah Altschuler of the NPA. "Thanks to our awareness message of early detection and regular checks, we've kept countless kids free from lice and nits and the anxiety that often comes with them."
The National Pediculosis Association has even developed a sing-song mantra to mark the All Out Comb Out: screen, detect, remove, protect.
"Combing to find and remove head lice and their nits as early as possible is the best and safest approach we know," Altschuler said. "Combing for lice and nits follows the precautionary principle. It's just good basic hygiene for kids."
So this month, in celebration of the National Pediculosis Association's 25th anniversary, break out the LiceMeister® comb and screen your child for head lice and their nits.
For more information about the National Pediculosis Association, please visit http://headlice.org.