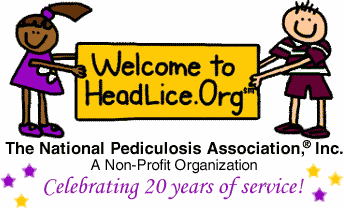 In 2003, the National Pediculosis Association (NPA), proudly celebrated its 20th year anniversary. The NPA strives to set the highest possible public health standards to protect children by educating parents and communities in advance of head lice outbreaks. The NPA encourages community cooperation, routine screening, and early detection accompanied with thorough manual removal of lice and nits from a child's hair.

The NPA supports protocols that enable parents to avoid the panic and disruption that often accompanies head lice outbreaks. Parents need help and information in order to avoid the misuse and abuse of potentially harmful pesticide treatments, and to safely keep their children in school lice and nit free.

The NPA is the first non-profit organization incorporated specifically for lice and scabies issues. The NPA has a 20-year record of successfully setting higher public health standards for children and families:
First to warn parents against the use of lindane and environmental lice sprays marketed to them for furniture and bedding;

First to launch an internet web site, distribute a national public service announcement and publish a book for parents on the issues of head lice;

Established National Pediculosis (Head Lice) Prevention Month (Congressional Resolution H.J. Res. 223 - April 2, 1985)

First to establish a national reporting registry for head lice outbreaks, treatment failures and adverse events;

Facilitated the first competitive, public-funded, grant from the National Institute of Allergens and Infectious Diseases for head lice research including the development of the first artificial feeding system for the colonization of human head lice for future study;

First to report and to sponsor independent scientific studies on lice resistance to the pesticide permethrin in the United States;

Provided 40,000 LiceMeister® combs to Kosovo refugees whose head lice infestations were being treated with extremely dangerous chemicals such as gasoline.

First to provide the education and prevention tools for cooperative efforts for lindane reduction in municipal water supplies;

First to recommend to pediatricians that routine medical histories for children should include questions about head lice treatment exposures;

First to recommend that the Centers for Disease Control include head lice in guidelines and procedures for children in the classroom with blood-borne disease (August 1985).

First to do an educational outreach project specifically to parents of kids with existing or previous illnesses and therapies ("Jesse's Project");

First to provide the necessary information and tools for a comprehensive non-chemical approach to head lice!
The NPA's mission is to ensure that no one is exposed to pesticides for head lice because of inadequate information or because they do not have access to a non-chemical choice.
"Because it's not about lice, it's about kids.™"